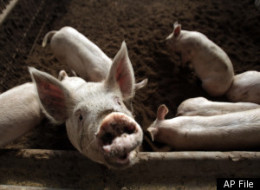 I'm sorry. This is all a big misdirect.
Going vegan is the only way to assure that animals are not treated this way. Not cameras, not welfare laws, not larger crates or sharper neck slitting blades or any of the other red herrings out there. If you truly care about animals, in addition to your health and the environmen
­t, go vegan. Putting a camera, (or undercover investigat
­or), in every slaughterh
­ouse in the world to make sure animals are stroked and calmed and not kicked in the face if they can't walk is like putting a band aid on a broken bone. It may make you feel good to do it but it's not going to stop anything.
If you care about animal cruelty, stop killing and eating them.
Go Vegan.
Marty
Marty's Flying Vegan Review
www.martys­nycveggier­eview.blog­spot.com
@veganpilo
­tmarty
Read the Article at HuffingtonPost